Mataco-Guaicuru
Basic information
Countries
Number of speakers

100,000[1]

Language family
Language codes
Mataco-Guaicuru or Macro-Waikurúan is a proposed language phylum consisting of the Guaicuruan, Matacoan[2], and sometimes the Mascoian and Charruan language families. The languages are spoken in the South American countries, Argentina, Bolivia, Brazil, and Paraguay.[1][3]
Language genetics
Edit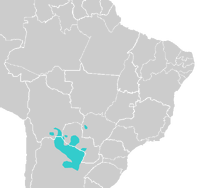 There is no convincing demonstration that the Mataco-Guaicuru languages are related to any of the indigenous languages of the Americas. Viegas Barros, however, has discovered a number of similarities between the pronomial system of these languages and those of the Macro-Je languages. Previously, Joseph Greenberg had suggested the possible existence of a genetic relationship between the Mataco-Guaicuru and Pano-Tacana languages, but this proposal is generally not accepted.[1]
Phonology
Edit
This table compares the personal pronouns of languages in the Guaicuruan and Matacoan language families.[1]
Guaicuruan
Matacoan
Kadiweu
Toba
Abipón
Mocoví
Wichí
1st person
singular
èé
hayem
aym
aym
olam
2nd person
singular
akáme
ʔam
akami
akami
am
3rd person
singular
iddoatte
-mari
iñi (m.)
añi (f.)
ini (m.)
ani (f.)
lam
1st person
plural
okó
qomi
akam
okom
olamel
2nd person
plural
okami
qami
akamii
akami
amel
3rd person
plural
iddá
-mari
hiniha (m.)
añija (f.)
inisó (m.)
anisó (f.)
lamel
References
Edit
Community content is available under
CC-BY-SA
unless otherwise noted.